Wound Care
A Unique Approach to Healing, Management, and Prevention
Bellevue Health & Rehabilitation provides expert wound care for short-term patients and long-term residents experiencing hard-to-heal wounds. Our full-time, on-site staff includes a physician wound care specialist and trained wound care nurses who play an active role in assessing, diagnosing, and overseeing all wound care procedures and protocols.
To prevent a recurrence, our unique, whole-person approach to this type of care stresses wound prevention and self-management. Our comprehensive wound care program treats a wide range of problems, including:
Diabetic ulcers
Pressure ulcers
Arterial and venous ulcers
Burns
Infections
Surgical wounds
Amputations
Complex wounds resulting from conditions that compromise circulation are also treated, including:
Diabetes
Traumatic Injury
Surgical Breakdown
Congestive Heart Failure
Vascular Disease
Incontinence
Obesity
Renal Failure
Lymphedema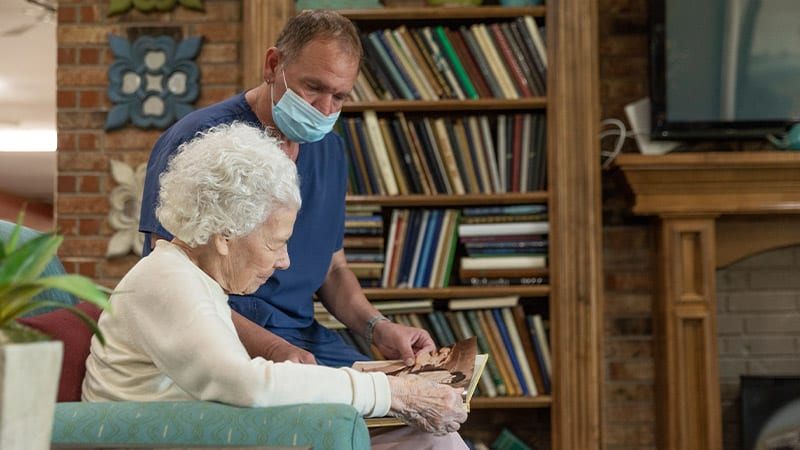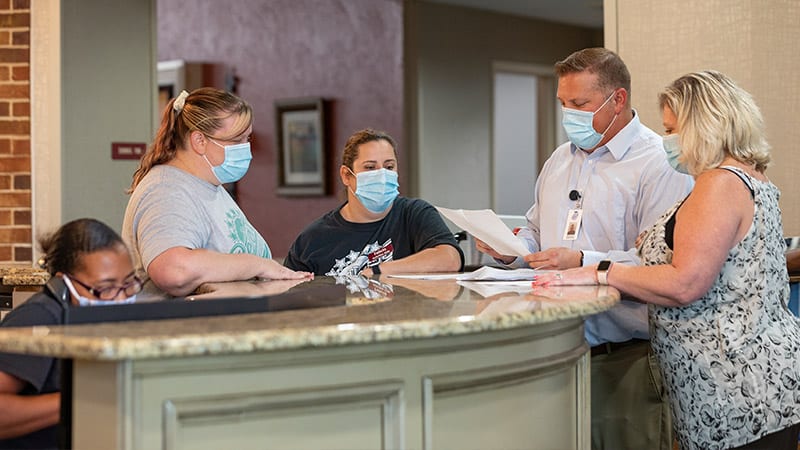 Therapies and Treatments
Bellevue Health & Rehabilitation invests in advanced products, therapies, and treatments for wound care that you won't find in many other care facilities or wound care settings. With the ultimate goal of healing, our team of wound care specialists promote healing, prevention, and management. These cutting-edge treatment methods include:
Surgical wound debridement
Chemical wound debridement
Wound VAC
Ultraviolet light therapy
Tissue ultrasound
Electrical stimulation
Whirlpool therapy
Wound dressing components that aid in the management of existing wounds are carefully selected for their high success rate. These treatments are designed to kick-start the healing process while providing protection from infection. Our wound care team works with patients individually to determine the best option for their condition. They include:
PROMOGRAN PRISMA™ Matrix absorbs destructive components of chronic wound fluid and creates the optimal environment for cellular growth.
ALLEVYN redistributes pressure and protects areas subject to friction and shear. They can be repositioned for skin inspection without losing its adherent properties.
Mepilex® Border is a self-adherent, soft silicone foam dressing that minimizes trauma to the wound and pain to the patient during dressing changes.
Should a patient experience more difficulty in healing a wound, Bellevue Health & Rehabilitation works closely with local Long-term Acute Care (LTAC) facilities to transport patients when necessary.
If you're considering Bellevue Health & Rehabilitation for your loved one, give us a call or fill out the form below. We'd love to show you around our campus.

"I want to express my appreciation and gratitude for your help with my Mom. She has grown so very close to a couple of your caregivers. Everyone is so prompt and considerate of her needs. It's comforting to know I have people who I can count on."
"Bellevue was a great experience for my dad. We were in the skilled nursing/rehab center. He enjoyed the staff. The food was good. They made every effort to make him comfortable. After we left, the staff continued to help with the transitions we needed help with at home. I would recommend this facility to anyone."