Dining Experience
Bellevue Health & Rehabilitation provides multiple options to meet a wide spectrum of needs, from luxury dining to personalized, made-from-scratch meals. We believe that having a say in what's on the menu and where and how it's served contributes substantially to a resident's sense of dignity and independence.
That's why our Certified Nutritionist and on-site Chef proactively seek every resident's input on their food preferences, while also being mindful of their unique needs and dietary restrictions. Patients and residents can also enjoy a morning pick-me-up at the coffee bar or an afternoon treat at our ice cream parlor.
Bellevue Health & Rehabilitation has partnered with Carson's Food Service, specializing in dining management for healthcare and senior living communities, to deliver the best possible dining experience for our residents.
Learn more about Carson's Food Service.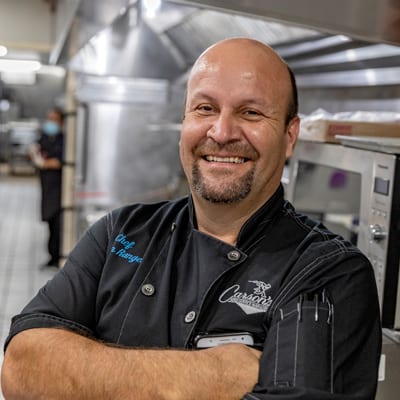 Chef Oscar

,
Bellevue's Private Chef

Creating an enjoyable dining experience for our residents is a top priority and something that truly sets us apart. We're proud to offer endless, resort-style meals rich in flavor and color from the skilled hands of our on-site private chef, Oscar. While offering a wide variety of tasty and nutritious menu choices, Chef Oscar prepares made-to-order meals and a rotating dining menu for residents to look forward to each day. From multi-cultural cuisines to accommodate specific dietary restrictions, the options are endless – and nutritious – at Bellevue!
Newly Remodeled Dining Room
Bellevue Health & Rehabilitation serves three nutritious meals and snacks daily in our new, spacious dining room. The time we set aside for these provisions is about much more than nourishment. Here, residents can enjoy the company of others and socialize during their meals. The relaxed atmosphere and feeling of community make our residents feel right at home. However, residents can always choose to have food delivered to their room as well. And no matter what they choose, our residents are sure to have everything they need to eat healthy without sacrificing flavor and flair.
Take a look at our sample menu below. We rotate these menus frequently and introduce local and seasonal items as much as possible. Of course, special needs and dietary restrictions are always catered to.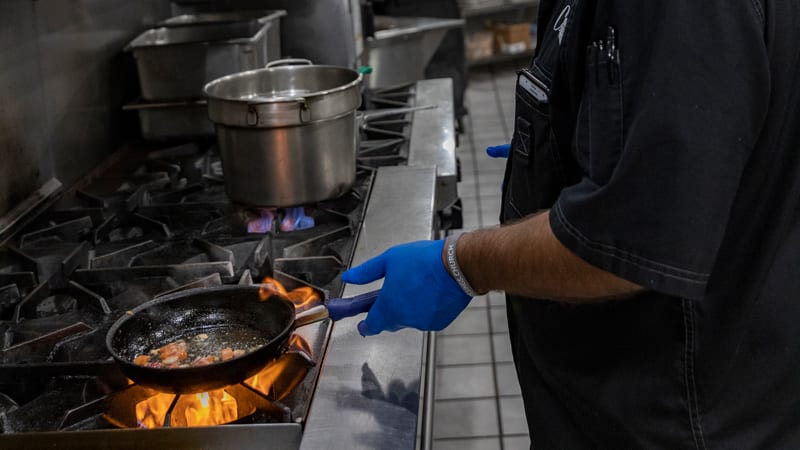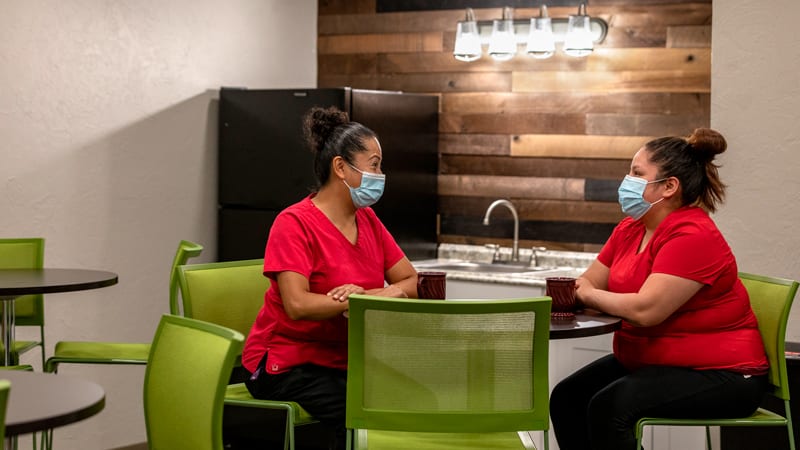 Ice Cream Parlor
Just inside our new dining area, residents and guests can enjoy a special treat at our nostalgic Ice Cream Parlor. Whether bringing the grandkids for a visit or enjoying a social hour with friends, we are sure you'll have a great time creating new memories where the calories don't count.
Coffee Bar
Residents can start their mornings off right with a cup of Joe at our coffee bar. A great spot for early morning conversations and late afternoon pick-me-ups, our coffee bar offers a variety of concoctions, from cappuccinos and lattes to freshly brewed roasts.
If you're considering Bellevue Health & Rehabilitation for your loved one, give us a call or fill out the form below. We'd love to show you around our campus.

"I want to express my appreciation and gratitude for your help with my Mom. She has grown so very close to a couple of your caregivers. Everyone is so prompt and considerate of her needs. It's comforting to know I have people who I can count on."
"Bellevue was a great experience for my dad. We were in the skilled nursing/rehab center. He enjoyed the staff. The food was good. They made every effort to make him comfortable. After we left, the staff continued to help with the transitions we needed help with at home. I would recommend this facility to anyone."